Um yes, hi. I know there is no excuse and proper explanation for my unplanned absence these past few weeks, -er months, -er what?! Oh wow is 2017 over? Yeah, it seems so. And looking around the reading community, everyone seems pretty settled in with 2018 already. Well, except me of course. Gah, I wasn't even able to make any New Year's post or anything!
Okay, I will process and panic privately about this later. In the meantime, let me unceremoniously drop mini-reviews of some books that I've read while I was away from this blog. It's my first time doing mini-reviews and it's basically just bullet points of bookworm blabber, not my usual word wall style of reviews. You probably know how
I'm a proponent of do-not-abandon-your-TBR-of-backlist-titles movement
, so these mini-reviews are all for YA backlist books.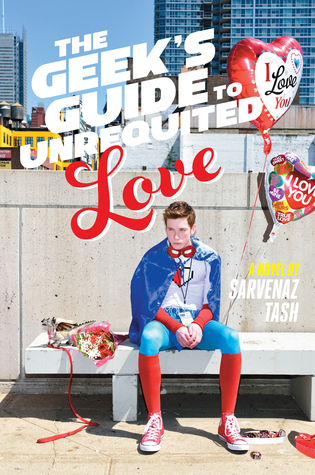 The Geek's Guide to Unrequited Love
by Sarvenaz Tash

Synopsis:
Peter Parker and Gwen Stacy. Archie and Veronica. Althena and Noth.…Graham and Roxy?
Graham met his best friend, Roxy, when he moved into her neighborhood eight years ago and she asked him which Hogwarts house he'd be sorted into. Graham has been in love with her ever since.
But now they're sixteen, still neighbors, still best friends. And Graham and Roxy share more than ever—moving on from their Harry Potter obsession to a serious love of comic books.
When Graham learns that the creator of their favorite comic, The Chronicles of Althena, is making a rare appearance at this year's New York Comic Con, he knows he must score tickets. And the event inspires Graham to come up with the perfect plan to tell Roxy how he really feels about her. He's got three days to woo his best friend at the coolest, kookiest con full of superheroes and supervillains. But no one at a comic book convention is who they appear to be…even Roxy. And Graham is starting to realize fictional love stories are way less complicated than real-life ones.
Genres:
YA Contemporary, YA Romance
Publisher:
Simon & Schuster Books for Young Readers
Publication date:
June 14th 2016
Source/Format:
Bought/Paperback
Purchase link:
Amazon
|
Book Depository
My Rating:
★★★★★
My Thoughts:
This book immersed me in geek culture. It's set in the four days of New York Comic Con and the whole time reading, I feel that I am there with the characters visiting different booths, signings and panels.
The pleasures and pains of being fanboys and fangirls are so real here. Like camping out the whole night just to get a glimpse of your comic creator idol or meeting fellow fans and flying your fandom flags together.
Graham is a pleasantly earnest narrator. It's hilarious how he is so seriously focused on planning and executing a grand gesture of professing his love for Roxy in the Comic Con but the geek gods are like so against it and have other plans. Our hero is no quitter tho, so I kept rooting for him. He kept on revising his plans, worked around his misfortunes and did everything in his (non-super) powers to tell Roxy how he feels.
I instantly liked Roxy and she joins my roster of YA heroines who are passionate about Harry Potter.
Graham and Roxy are not only BFFs, they are also a budding writer-artist tandem of their own unpublished comic series. These already strong existing relationships between the two came to play and what's at stake with Graham's plans on confessing his romantic feelings for Roxy.
I like how the book shows their young creative process especially on Graham's part when he incorporates his recent real love life experience on his work.
I adore the supporting characters as well. Everyone has something to do and contribute to their Comic Con adventures.
It echoes one of my favorite things to be reminded of as a bookworm when reading books: it's all fun and games in fiction until reality hits you.
Fantastically realistic ending. And my heart fluttered with the promise of a budding romance.
Such a fluffy and fast read. Loved it so much.
Diversity Watch:
Graham Posner is described as tall, lanky, pale, redhead.
Roxana "Roxy" Afsari is Persian. She is described as dark haired and dark eyed.
Casey Zucker is described as black haired.
Felicia Obayashi is Japanese.
Callie and Drew McCullough are Graham's stepsiblings, described as both redheads.
Amelia , a girl they met in Comic Con, is described as black, with a smattering of freckles on her nose, and dark hair dyed red on the side.
Devin is a British boy that they also met in Comic Con with jet black hair and bright blue eyes.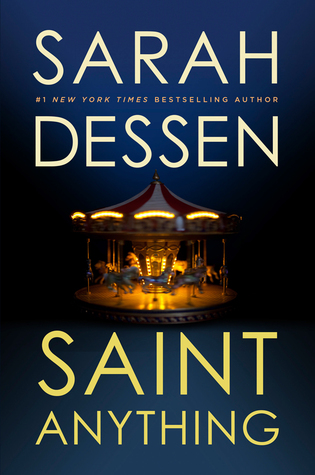 Saint Anything
by Sarah Dessen

Synopsis:
Peyton, Sydney's charismatic older brother, has always been the star of the family, receiving the lion's share of their parents' attention and—lately—concern. When Peyton's increasingly reckless behavior culminates in an accident, a drunk driving conviction, and a jail sentence, Sydney is cast adrift, searching for her place in the family and the world. When everyone else is so worried about Peyton, is she the only one concerned about the victim of the accident?

Enter the Chathams, a warm, chaotic family who run a pizza parlor, play bluegrass on weekends, and pitch in to care for their mother, who has multiple sclerosis. Here Sydney experiences unquestioning acceptance. And here she meets Mac, gentle, watchful, and protective, who makes Sydney feel seen, really seen, for the first time.

The uber-popular Sarah Dessen explores her signature themes of family, self-discovery, and change in her twelfth novel, sure to delight her legions of fans.
Genres:
YA Contemporary, YA Romance
Publisher:
Viking
Publication date:
May 5th 2015
Source/Format:
Bought/Paperback
Purchase link:
Amazon
|
Book Depository
My Rating:
★★★☆☆
My Thoughts:
I've heard lots of good things about Sarah Dessen's books and this is my first time reading one.
There is no doubt about the author's skills. Her writing is very engaging. This is a big book for me (400 plus pages) but I kept reading, that's how engaging it is.
I wanted to like it but there are some mild disappointments.
What I felt about Sydney in the beginning is pretty much the same until the end. I don't think that her character grew and she became her own person. She was like, when she can't get the shield and protection that she needs from her brother and parents, she projected those needs to the Chatham family.
Insta-friendship between Sydney and Layla, ugh!
There is a proper build-up to the romance but I don't know, it still felt so-so for me.
Lots of characters that are always mentioned that have nothing to do with anything, like Irving and Ford.
The ending is a bit lacking for me. I felt unrewarded after all those 400 pages. I just thought that after that build up about Sydney's brother and his victim, David Ibarra, there will be more.

Diversity Watch:
Sydney Stanford is described as olive skinned and dark haired with brown and almost black eyes.

Mac Chatham is decribed with shouler-lenght brown hair.

Layla Chatham is described as blond with green eyes.

Irving Fearrington, a periphery character is described as black, muscled and tall.
Denton Little's Deathdate
by Lance Rubin

Synopsis:
**WINNER of the ILA Young Adult Book Award!**

Get ready to die laughing: this is an outrageously funny ride through the last hours of a teenager's life as he searches for love, meaning, answers, and (just maybe) a way to live on.

Denton Little's Deathdate takes place in a world exactly like our own except that everyone knows the day on which they will die. For Denton, that's in just two days—the day of his senior prom.

Despite his early deathdate, Denton has always wanted to live a normal life, but his final days are filled with dramatic firsts. First hangover. First sex. First love triangle—as the first sex seems to have happened not with his adoring girlfriend, but with his best friend's hostile sister. (Though he's not totally sure—see, first hangover.) His anxiety builds when he discovers a strange purple rash making its way up his body. Is this what will kill him? And then a strange man shows up at his funeral, claiming to have known Denton's long-deceased mother, and warning him to beware of suspicious government characters. . . . Suddenly Denton's life is filled with mysterious questions and precious little time to find the answers.
Series:
Denton Little #1
Genres:
YA Sci-Fi, YA Romance
Publisher:
Knopf Books for Young Readers
Publication date:
May 5th 2015
Source/Format:
Bought/Hardcover
Purchase link:
Amazon
|
Book Depository
My Rating:
★★★☆☆
My Thoughts:
Another derivative of the funny guy narrator.
It's funny but not the laugh-out-loud kind of funny for me.
It's an easy and fast read. Denton's voice is casual and light, it's like talking to a friend.
Not shallow and not too deep, either. Just the right kind of discussion about death and life. Death is so blank and scary. But so is what's next in your life, especially when you're young.
There's an air of freshness with having a seemingly healthy, YA character deal with his imminent death. Denton has a chaotic, full of bluff and adventurous death date. Just in case you need a breather from sad, angsty terminally ill YA characters, here's one for you.
There are elements of mystery on how Denton will eventually die and on finding out her dead biological mom's past.
The pacing gets a bit of boring in the middle but action eventually picks up at the end.
The romance part is meh.
Love Denton's bromance with his BFF Paolo, tho. It felt genuine.
The ending is no big surprise but I kinda liked it.

Diversity Watch:
Denton Little is mentioned as looking like his biological mom. She was described as having brown curly hair.

Paolo and Veronica Diaz are Hispanic.

Taryn, Denton's girlfirend, is described as having light brown hair and hazel eyes.