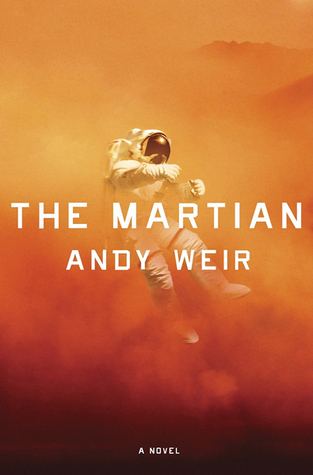 The Martian
by Andy Weir

Synopsis:
Six days ago, astronaut Mark Watney became one of the first people to walk on Mars.
Now, he's sure he'll be the first person to die there.
After a dust storm nearly kills him and forces his crew to evacuate while thinking him dead, Mark finds himself stranded and completely alone with no way to even signal Earth that he's alive — and even if he could get word out, his supplies would be gone long before a rescue could arrive.
Chances are, though, he won't have time to starve to death. The damaged machinery, unforgiving environment, or plain-old "human error" are much more likely to kill him first.
But Mark isn't ready to give up yet. Drawing on his ingenuity, his engineering skills — and a relentless, dogged refusal to quit — he steadfastly confronts one seemingly insurmountable obstacle after the next. Will his resourcefulness be enough to overcome the impossible odds against him?
(cover image and synopsis lifted from
Goodreads
)
Series:
The Martian #1
Publisher:
Crown Publishing
Publication date:
February 11th 2014
(first published September 27th 2012)
Source/Format:
Bought/eBook
Purchase link:
Amazon
|
Book Depository
My Rating:
★★★★☆
My Thoughts:
Hey-o, of course this book needs no introductions, with a strong 4.39 average rating in Goodreads from over half a million account users and with a movie adaptation starring Matt Damon. I've seen the movie and I liked it. I'm trying to decide if I want to read the author's sophomore book,
Artemis
, being released this month. I have a copy of "The Martian" lying around so I guess it's high time to read it and have a feel of Andy Weir's writing style.
Happy to report, I am with the majority on this one. High stakes and humor are what I enjoyed most in this book. I mean, what could be more dangerous and high stakes than being stranded alone in a hostile planet? And yet Mark Watney, despite his dire circumstance is joke-y, has a never-say-die attitude and has ace problem solving skills which, made his character easy to root for. The periphery characters — NASA employees, Mark's crew mates, and basically all the humanity — are all rooting for Mark's survival, too so there is really no villain character here. Man versus Mars, bring it on!
I admit there are boring hard science stuff, this is why I do not read sci-fi that much, but I mostly skimmed over these parts and still found the book enjoyable. I will keep this post short now because there is nothing much I could add to the glowing reviews other people wrote. "The Martian" is entertaining and I decided that I will read Andy Weir's next book.
Diversity Watch:
Mark Watney is racially indeterminate.

Director of Mars Missions, Venkat Kapoor's ethnicity is not explicit in text but I am inferring he has Indian roots. He mentioned his religion is Hindu.

Director of JPL, Bruce Ng's ethnicity is not explicit in text but I am inferring he has Asian roots.

Martinez, one of Mark's crewmates, explicitly mentioned that he is Mexican.

Vogel, one of Mark's cremates, is the European Union's delegate for the Ares 3 mission. He is German.

Guo Ming, Zhu Tao, Su Bin Bao from the China National Space Administration.