Complicated characters make reading interesting. In this post of yet another mini-reviews, let me talk about
backlist books
with complicated Y.A. heroines.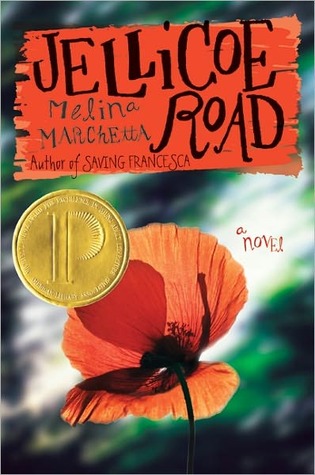 Jellicoe Road
by Melina Marchetta

Synopsis:
In this lyrical, absorbing, award-winning novel, nothing is as it seems, and every clue leads to more questions.
At age eleven, Taylor Markham was abandoned by her mother. At fourteen, she ran away from boarding school, only to be tracked down and brought back by a mysterious stranger. Now seventeen, Taylor's the reluctant leader of her school's underground community, whose annual territory war with the Townies and visiting Cadets has just begun. This year, though, the Cadets are led by Jonah Griggs, and Taylor can't avoid his intense gaze for long. To make matters worse, Hannah, the one adult Taylor trusts, has disappeared. But if Taylor can piece together the clues Hannah left behind, the truth she uncovers might not just settle her past, but also change her future.
Genres:
YA Contemporary, YA Romance
Publisher:
HarperTeen
Publication date:
March 9th 2010
(first published 2006)
Source/Format:
Bought/Paperback
Purchase link:
Amazon | Book Depository
My Rating:
★★★★★
My Thoughts:
Trigger warning: suicide, domestic abuse, implied child rape
I've seen a lot of people in Goodreads saying they are confused as hell with the beginning and I get that. There were two major timelines involved with flashbacks between those timelines. Not to mention dream sequences. I am confused as hell too at the start but I eventually got the book's jibe and I swear, you will reap the rewards for sticking with it until the last pages.
The book is like a puzzle and it was a pleasure piecing it together.
I pretty much guessed how the characters and timelines fit halfway through but still there were nice touches in the ending that were unpredictable. One of which nice touches I'm talking about is that kindly postman in a train station. I mean, who would've known?!
I am currently seventy pages in re-reading it and now that I got the whole picture, it's nice picking up the cues that I did not notice on the my first read.
This book wrecked me emotionally. All those poor characters beleaguered with tragedy. I remember there's some ugly crying involved.
But there were a few laughs and chocolate chip muffins, too. The banter between characters are gold. And the way the characters treat the territory wars — which is actually just a childish fight on places to hang out — all political, serious and business-like has some hilarity to it.

Diversity Watch:
Taylor Markham – described as tall, lanky, brown hair and brown eyes

Jonah Griggs – racially indeterminate

Chaz Santangelo – dark skinned, black/Aboriginal mother and Italian father

Rafaela – racially indeterminate

Hannah – described as having hazel eyes.
Love Letters to the Dead
by Ava Dellaira

Synopsis:
It begins as an assignment for English class: Write a letter to a dead person. Laurel chooses Kurt Cobain because her sister, May, loved him. And he died young, just like May did. Soon, Laurel has a notebook full of letters to people like Janis Joplin, Amy Winehouse, Amelia Earhart, Heath Ledger, and more -- though she never gives a single one of them to her teacher. She writes about starting high school, navigating new friendships, falling in love for the first time, learning to live with her splintering family. And, finally, about the abuse she suffered while May was supposed to be looking out for her. Only then, once Laurel has written down the truth about what happened to herself, can she truly begin to accept what happened to May. And only when Laurel has begun to see her sister as the person she was -- lovely and amazing and deeply flawed -- can she begin to discover her own path in this stunning debut from Ava Dellaira, Love Letters to the Dead.
Genres:
YA Contemporary, YA Romance
Publisher:
Farrar, Straus and Giroux
Publication date:
April 1st 2014
Source/Format:
Bought/Paperback
Purchase link:
Amazon
|
Book Depository
My Rating:
★★★★☆
My Thoughts:
Trigger warning: implied child sex abuse
You probably know that Emma Watson tweeted about this book some years ago.
She recc'ed good! I'm done reading in no time despite my notoriety as a slow and easily distracted reader.
As the title suggests the book is literally just Laurel's collection of friendly letters to famous dead people. It became her way of coping from her older sister's death whom she greatly looks up to and the subsequent falling apart of her relationship with her parents.
I have a bit of a reservation of being fully sold with how the letters were written. I mean, If I write friendly letters talking about how I've been or what are the things that happened around me lately, I don't do it complete with dialogues, proper punctuation and everything. The letters are just too authorly, in my opinion.
But that did not mean that I wasn't emotionally involved with Laurel and her story. I was there with her when she was all clammed up with her grief and aloneness, when she slowly opened up and gained friends, realized that her sister had her own flaws, told us what really happened and eventually started her path to healing.
The romance between Laurel and her love interest is not over the top, with a surprise layer from the past that involved Laurel's dead sister.
Even the supporting characters have likability and depth in them, too.
"I guess when you lose someone, sometimes it feels like you are the only one. But I'm not."
Speaking of letters to famous dead people, If I'm going to write one a la Laurel, it'd probably be to Nick Drake. I'd thank him for sharing his gift of music to the world and I'd tell him how his songs made me feel less alone.
Diversity Watch:
My apologies, I forgot to take notes and now that I'm writing this review, I can't recall any physical descriptions of the characters.

The Manifesto on How to be Interesting
by Holly Bourne

Synopsis:
Apparently I'm boring. A nobody. But that's all about to change. Because I am starting a project. Here. Now. For myself. And if you want to come along for the ride then you're very welcome.

Bree is a loser, a wannabe author who hides behind words. Most of the time she hates her life, her school, her never-there parents. So she writes.

But when she's told she needs to start living a life worth writing about, The Manifesto on How to Be Interesting is born. Six steps on how to be interesting. Six steps that will see her infiltrate the popular set, fall in love with someone forbidden and make the biggest mistake of her life.

From the bestselling author of Soulmates comes a fearlessly frank take on school, cliques and crushes.


Genres:
YA Contemporary
Publisher:
Usborne Publishing
Publication date:
August 1st 2014
Source/Format:
Giveaway
/Paperback
Purchase link:
Amazon
|
Book Depository
My Rating:
★★☆☆☆
My Thoughts:
Trigger warning: self-harm
You probably know how I love me some Holly Bourne.
With deep regret tho, I must inform you that this is not her best work. No matter how many times I dropped and picked up the book, I still can't warm up to it. This is one of Holly's early works tho, I still adore her.
I just realized that almost all Holy Bourne characters either love lists or films or both.
Bree loves both. But I don't like Bree at all. I mean, there are characters whose decisions I might not agree with but still manage to relate to. But Bree is like, sorry to say, TSTL.
She's a wannabe author whose submitted manuscripts had been rejected one too many times. Then one of her teachers advised her to try to be more interesting and gain real life experiences that she can turn to literary art.
Okay I get that real life experiences contribute to art but I don't get why Bree has to make herself the guinea pig of her own social experiments.
I can forgive her for one or few reasonable bad decisions but there are just too many times when she knowingly and willingly went looking for trouble just for the sake of "gaining real-life experience".
Bree be-friended the popular mean girls and the book attempted to avoid stereotyping them but that did not work for me.
Plus the Lolita-esque romantic (?) subplot left a bad taste in my mouth.
And even after all that, Bree was not able to translate her self-inflicted miseries to any literary art. In the end, she did not finish any manuscript. Surmising from the blog entries she has written for her how-to-be-interesting project, I don't think that Bree's writing is that special at all.
Bree's teacher is a tool and his advice is total crap. She's a teen, she still has a long way to go. What she needs is persistence: more writing practice, more reading or watching films, observing people, observing life in general and if she really has talent, the muse will come to her.
Diversity Watch:
Bree's hair is described as a lanky mouse shade that she dyed an eccentric color then later dyed blond.

Holdo, Bree's bestfriend is described with blondish hair and acne-splattered forehead.

Jasmine, ringleader of the popular girls, blond.

Hugo, popular boy in school, Jasmine's boyfriend, described with deep-set blue eyes.

Gemma, one of the popular girls befriended by Bree, blond.

Jessica, one of the popular girls befriended by Bree, blue-eyed.

Matty, one of Hugo's buddies, described as short, a bit chubs, ginger and Caucasian as hell skin.
Mr. Fellows, a teacher described with brown hair.