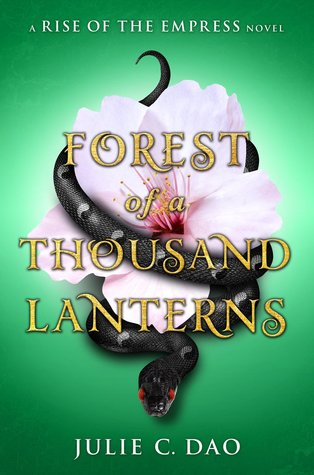 Forest of a Thousand Lanterns
by Julie C. Dao

Synopsis:
An East Asian fantasy reimagining of The Evil Queen legend about one peasant girl's quest to become Empress--and the darkness she must unleash to achieve her destiny.
Eighteen-year-old Xifeng is beautiful. The stars say she is destined for greatness, that she is meant to be Empress of Feng Lu. But only if she embraces the darkness within her. Growing up as a peasant in a forgotten village on the edge of the map, Xifeng longs to fulfill the destiny promised to her by her cruel aunt, the witch Guma, who has read the cards and seen glimmers of Xifeng's majestic future. But is the price of the throne too high?
Because in order to achieve greatness, she must spurn the young man who loves her and exploit the callous magic that runs through her veins--sorcery fueled by eating the hearts of the recently killed. For the god who has sent her on this journey will not be satisfied until his power is absolute.
(cover image and synopsis lifted from
Goodreads
)
Series:
Rise of the Empress #1
"Forest of a Thousand Lanterns" follows Xifeng, a peasant girl with exceptional beauty and great destiny. Her witch aunt Guma groomed, disciplined and taught her poetry, history and other ways of the aristocrat, as preparation for her future. A part of Xifeng doubts her foretold great destiny but another part wants to believe it. One day, while being fed up with her aunt Guma's beatings, the part of Xifeng which believes fate won over and she decides to run away with her lover, Wei. Together, they chase their luck in the Imperial City.
Xifeng's character is a re-imagined origin story of one of the most iconic fairy tale villains,
the Evil Queen
. As a villain in the making, Xifeng is not intended to be likable at all but she will grow on the reader just the same. She never lets people who step on her get away with it. When people underestimate her, she does every thing in her power to prove them wrong. The Feng Lu Empire is a man's world but Xifeng gets to do a little smashing of the patriarchy in the end. Murky morality aside, she is a strong character for sure.
I like how Xifeng's character takes the reader to an exploration of the concept of freedom. A large chunk of the book is about Xifeng starting to figure out her way to being free and her own person. There is this thought Xifeng had earlier in the book where she questions if running away with Wei is the freedom that she wanted after being finally free from Guma's clutches: "When had she gone from being Guma's possesion to Wei's?" Hey Wei, dude, don't mess with this girl, she can think for herself. And then there was this instance when she killed small animals for their hearts to heal a scar in her face. This ritual had always upset Xifeng before when Guma made her do it but when she does it on her own volition, there is this hint of triumph in Xifeng. I had goosies when it dawned on me that she was upset in sacrificing animals before not because she thought it was wrong but more of because she was being forced to do it.
Being on top has become Xifeng's idea of ultimate freedom. Xifeng one by one discards any thing (poverty, love) and any one (there are murders, gasp!) she thought would suppress her from ascending the ranks of the Imperial court. She totally becomes out of touch from herself, even succumbing to an evil spirit so she can ensure the fruition of her goals. Am I giving away too much plot here? Sorry, I just cannot stop with too much pleasure in discussing all things Xifeng. Just as I told you, she grows on the reader.
The book's world-building is not that defined yet. I hope it gets more enhanced on the sequels. The Feng Lu Empire appears to be vast but I experienced only a glimpse of it. Aside from Xifeng's travel from her obscure village to the Imperial City, most of the story's setting is limited inside the city of women, which is a place she cannot leave as a court lady. There are still a lot of people (the Five Tigers, the Crimson Army, the royalty of the other Kingdoms) and places (Kamatsu, Surjalana, Dagovad) mentioned that I hope to meet and visit in the next book/s.
The supporting characters are serviceable but aside from maybe Aunt Guma and Empress Lihua, they are mostly broadly written. There is a distinct lack of humor that I know is not really required but could pick up on the unexciting bits of the book. The pacing is a little uneven with the first parts going slow and steady day by day, week by week and then rushing to year by year on the last parts, using casual birth and death of periphery characters to indicate the passing of time.
Strangely enough, I am willing to let go of these little flaws and jump right into the next book in the series. I just want to bear witness to the terrible things Xifeng has in store for the Feng Lu Empire. I also can't wait to meet the Snow White equivalent of the series, although I believe I've already saw her briefly in this book. I hope she becomes a formidable foe to Xifeng. "Forest of a Thousand Lanterns" is a confident set-up piece for a book series, with a strong anti-heroine at its front and center. It delivered a promising origin story and an excellent character study for Xifeng whom we all know is bound to unleash her reign of terror in the future. I don't know about you, but until someone proves to be a worthy adversary to her, I'll be standing here holding a sign: U DA BADDEST & DA FAIREST, XIFENG!
Sidenote:
Check out
the ongoing PH Blog Tour of "Forest of a Thousand Lanterns",
hosted by
Erika @ The Nocturnal Fey,
for giveaways and reviews from other Filipino book bloggers!
Diversity Watch:
Although The Feng Lu Empire is inspired by Imperial China, there are mentions of other people of color (brown skin, copper color skin, etc.) in its capital.
Shiro, the Ambassador to the Kingdom of Kamatsu, is a dwarf.