It just happened that I have three David Levithan books popping on my bookshelf so why not read and do mini-reviews with them?!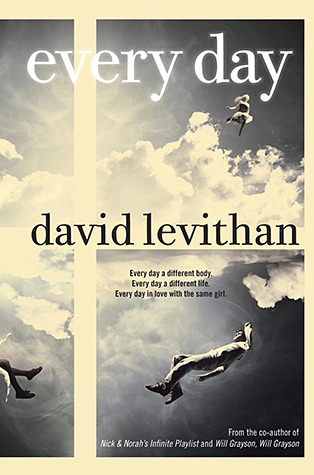 Every Day
by David Levithan

Synopsis:
Every day a different body. Every day a different life. Every day in love with the same girl.

There's never any warning about where it will be or who it will be. A has made peace with that, even established guidelines by which to live: Never get too attached. Avoid being noticed. Do not interfere.

It's all fine until the morning that A wakes up in the body of Justin and meets Justin's girlfriend, Rhiannon. From that moment, the rules by which A has been living no longer apply. Because finally A has found someone A wants to be with—day in, day out, day after day.


Genre/s:
YA Romance
Series:
Every Day #1
Publisher:
Knopf Books for Young Readers
Publication date:
August 28th 2012
Source/Format:
Bought/Paperback
Purchase link:
Amazon
|
Book Depository
My Rating:
★★★★☆
My Thoughts:
This is a re-read. I've read it before my book blogging days.
I remember liking this so much the first time that I might have rated it 5 stars then.
Such a fascinating premise. I like how the book gives me this unique perspective of A living a different kind of life each day.
The book is in A's first person POV. A's voice has this mixed innocence and maturity in it. Because of having to switch bodies every day, he has developed a high sense of empathy but he is also naive in other ways, like falling in love for example.
David Levithan writes such emotionally raw lines that makes me want to crawl up in a coccoon and weep for a while.
I mean: "She is so lost in her sadness that she has no idea how visible it is."
Also: " Ultimately, the universe doesn't care about us. Time doesn't care about us. That's why we have to care about each other."
Also, also: "What is it about the moment you fall in love? How can such a small measure of time contain such enormity?"
Actually I want to quote chunks of the book, but obvi I can't do that.
I still like it upon re-read, although not as much as the first time. I partially blame the law of diminishing marginal utility applying itself.
But more like because I re-read it with its companion book, "Another Day", and that seriously ruined things for me. I'll explain more later on my review for "Another Day" below.
I would highly recommend if you want to be wrapped in beautifully woven words.

Diversity Watch:
A is the epitome of gender fluidity.

The bodies that A switched into is diverse in race, gender and body rep. Am amazed and happy with this.

There is a positive discussion with regards to mental health when A switched into the body of a girl with suicidal thoughts.
Another Day
by David Levithan

Synopsis:
Every day is the same for Rhiannon. She has accepted her life, convinced herself that she deserves her distant, temperamental boyfriend, Justin, even established guidelines by which to live: Don't be too needy. Avoid upsetting him. Never get your hopes up.

Until the morning everything changes. Justin seems to see her, to want to be with her for the first time, and they share a perfect day—a perfect day Justin doesn't remember the next morning. Confused, depressed, and desperate for another day as great as that one, Rhiannon starts questioning everything. Then, one day, a stranger tells her that the Justin she spent that day with, the one who made her feel like a real person…wasn't Justin at all.

In this enthralling companion to his New York Times bestseller Every Day, David Levithan tells Rhiannon's side of the story as she seeks to discover the truth about love and how it can change you.


Genre/s:
YA Romance
Series:
Every Day #2
Publisher:
Alfred A. Knopf Books for Young Readers
Publication date:
August 25th 2015
Source/Format:
Bought/Paperback
Purchase link:
Amazon
|
Book Depository
My Rating
:
★★★☆☆
My Thoughts:
I know I was excited in the past about the news that there will be a companion novel to Every Day because I tweeted about it.
I just found out that there will be a companion book for David Levithan's Everyday! *squees* *tears up a little*

— Jen Vi (@RurouniJenni) May 6, 2015
Fast forward to after the time I'm finished reading the said companion book and I'm like I wish I can blow away my excitement before because there is nothing much to get excited about.
First, I was deeply disappointed with the "another day" part which is also the ending because it did so little to make this companion book needed.
Second, it ruined the pure and lovable images of A and Rhianon for me. I liked them both in Every Day. I kind of rooted for their love in Every Day. But having read Rhianon's point of view, I get to realize that she cheated on Justin with A. And that Justin is not a total jerk at all and he was hurt with what Rhianon did. I just think that it's toxic to romanticize things that are really hurtful to others.
I recognize the effort to flesh out Rhianon and Justin. I see now that love can be pure on one side but can be complicated on the other.
I just feel after reading it that I really don't need Rhianon's side of things. I want my untainted version of the story back. I wish I only read "Every Day".
No worries, Levithan's beautiful writing is still there: " Most of the time when we think we're looking for death, we're really looking for love."
So I will maybe recommend if you are a die-hard David Levithan fan.
I've heard there's a sequel coming this year called "Someday". I have no feelings about it at the moment.

Diversity Watch:
What stood out for me here was Rhianon's reactions to A's different bodies. Rhianon feels less enthused when A is not an attractive cis male. This is not negative because it made me reflect on how I will react if I am on the same situation.
Will Grayson, Will Grayson
by John Green, David Levithan

Synopsis:
Will Grayson meets Will Grayson. One cold night, in a most unlikely corner of Chicago, two strangers are about to cross paths. From that moment on, their world will collide and lives intertwine.

It's not that far from Evanston to Naperville, but Chicago suburbanites Will Grayson and Will Grayson might as well live on different planets. When fate delivers them both to the same surprising crossroads, the Will Graysons find their lives overlapping and hurtling in new and unexpected directions. With a push from friends new and old - including the massive, and massively fabulous, Tiny Cooper, offensive lineman and musical theater auteur extraordinaire - Will and Will begin building toward respective romantic turns-of-heart and the epic production of history's most awesome high school musical.


Genre/s:
YA Contemporary
Series:
Will Grayson, Will Grayson #1
Publisher:
Dutton Books
Publication date:
April 6th 2010
Source/Format:
Bought/Paperback
Purchase link:
Amazon
|
Book Depository
My Rating:
★★★★☆
My Thoughts:
The book is about two teenage boys who are both named Will Grayson and how their two worlds intersect.
It's in alternating first person PoV narration by both Wills. One Will is written by John Green and the other by David Levithan.
While reading, I tried to guess which Will is by J.G. and which Will is by D.L., and what do you know, I guessed right! (according to the bonus content at the back of the book)
Both Wills are okay characters, I guess. I don't have much feelings for them. The book owes its charm to the character, Tiny Cooper.
Tiny Cooper is the creator/director/actor of a musical aimed to celebrate love and gayness. He is the kind of person who belts out original musical numbers whenever he feels like it. Also he is huge and a linebacker of their football team.
Tiny's enthusiasm with the things he love and the people he care about reminds me of Clarence from the Cartoon Network TV show.

Tiny is cartoonish but he is also oh so real. He reminds me too of this super gay classmate I had in college who is a social butterfly and flirts with every guy he meets.
It's a funny book, thanks to Tiny's hilarious antics and both Wills' wit and sarcasm.
David Levithan can write funny if he wants to.
The friendship dynamics here involves being rude and insulting to each other, not in the spirit of being mean but more like because they are overly familiar and close to each other. (Personally, I don't like this kind of friendship. I thrive on positive reinforcement.)
There is this interesting and layered friendship (or non-friendship) of one Will with a Maura character, that I like.
The ending is a bit corny but that's easily forgivable.
I just don't like it when John Green tries to be unnecessarily deep and complicated. Like in this book, he compared how relationships work with the paradox of the Schrödinger's cat.
If you love shows like "Glee" and the "Pitch Perfect" films, I recommend this highly to you.

Diversity Watch:
I love how Tiny Cooper is the "pillar of fabulosity" for gayness. He is described as fat and he carries it with grace and and confidence.